Offline Batches
Online Batches
Offline Batches
Online Batches
Offline Batches
Online Batches
Offline Batches
Online Batches
Offline Batches
Online Batches
Offline Batches
Online Batches
Offline Batches
Online Batches
Offline Batches
Online Batches
Offline Batches
Online Batches
Welcome to ASAP Chemtime, a premier educational institute that provides high-quality coaching classes for competitive exams in Chemistry and Mathematics. Our institute is committed to providing the best education to students and helping them achieve their goals.
Our vision at ASAP Chemtime is to be the most trusted and respected educational institute for competitive exams in Chemistry and Mathematics. We aim to provide high-quality education that empowers students to achieve their full potential and build successful careers in their chosen fields.
Our mission at ASAP Chemtime is to provide a comprehensive and personalized learning experience to students who aspire to crack competitive exams in Chemistry and Mathematics. We offer coaching classes, study material, and test series for exams such as:
– GATE (Graduate Aptitude Test in Engineering)
– CSIR-NET (Council of Scientific and Industrial Research – National Eligibility Test)
– JRF (Junior Research Fellowship)
– IIT-JAM (Indian Institutes of Technology Joint Admission Test for MSc)
– CUET-PG (Central University Entrance Test for Post Graduation)
– TIFR (Tata Institute of Fundamental Research)
– BARC (Bhabha Atomic Research Centre)
– UPSC (Union Public Service Commission)
– GSI (Geological Survey of India)
– State PSC (Public Service Commission)
– State SET (State Eligibility Test)
At ASAP Chemtime, we believe in creating a student-centric learning environment where students can learn at their own pace and receive individual attention from experienced faculty members. We are committed to providing the best education, rigorous practice sessions, and excellent study material to help students succeed in these exams.
Our motto at ASAP Chemtime is "Empowering your dreams." We believe that every student has the potential to achieve great things, and we are committed to empowering them with the knowledge and skills required to turn their dreams into reality.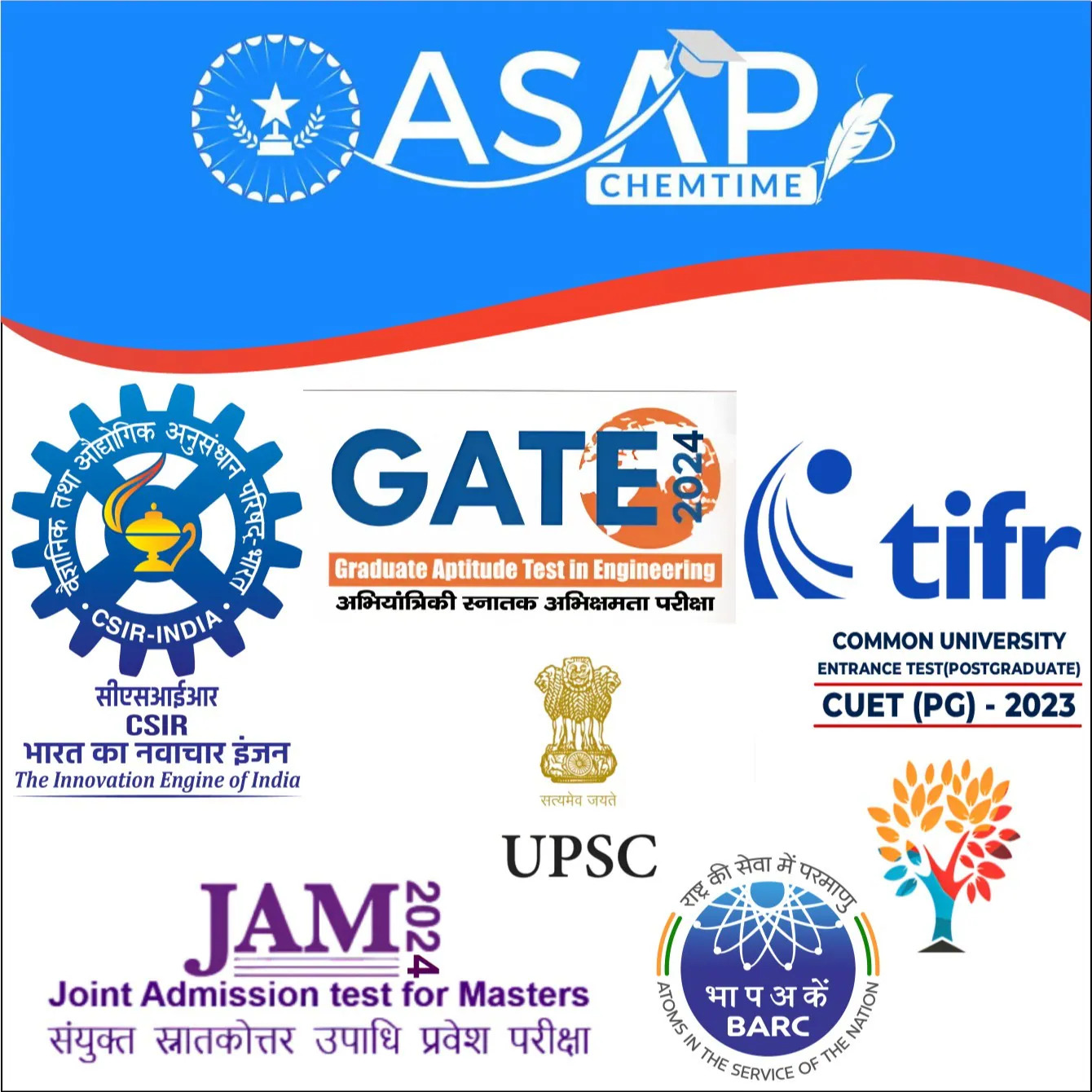 I am a guy who don't believe someone easily, but when I went for demo classes in chemtime (2 june 2019) then the scene was totally different, as after taking classes for one week, I found myself attached to every teacher and staff member and realized that it is the best place for me .
Being a part of CHEMTIME was wonderful. All the teachers are experts in their topics. They know what to deliver and how to deliver which helps to grab the subject in the easiest way. Special Thanks to Amit Tiwari sir who made physical chemistry much easier for me as it was never before.
It feels good to get the result of constant hard work. This wouldn't have been possible without the constant support of the CHEMTIME family. This is not just a coaching institute but a family that continues to support until you reach your goal. Prateek sir has always been like a mentor throughout this journey. Aman sir thermodynamics is incomparable. Jatin sir makes organic chemistry so easy. Thanks to CHEMTIME for making chemistry more beautiful for students
I got one of the best experiences of my life, my gate result with AIR 41, because of Chem time. I thank all the faculty there and supporting staff who helped in achieving my ambition. Special thanks to Amit tiwari Sir "quantum and statistical ka dar he khatam ker diya" and for reminding me that jitna bhagoge utna mroge, I will miss the word " Garibo merlo I would like to mention sanjay sir exclusively for his efforts in organic chemistry. He is the one who helped me to get rid " The organic fear". Ajay sir helped a lot regarding the hidden concepts in OMC and Jatin sir for reagents and some bitter-sweet discussion regarding the other topics as well. I would like to thanks Prateek and Aman sir for supporting and clearing my illogical doubts.